Honoring women who lost their lives in the name of honor.
StopFemicideIran tells the stories of Iranian women murdered by their male kins.
What is femicide
The term Femicide came to light when Diana E. H. Russel used the term while testifying to the women attending the first International Tribunal on Crimes Against Women In Brussels, Belgium in 1976. The term is defined as "the killing of females by males because they are female" and it encompasses all types of killing of females. While there is no internationally accepted definition, the term "femicide" is commonly used to describe the intentional killing of women and girls because of their gender. The most severe form of gender-based violence against women and girls, femicide requires the perpetrator to have a gender-related motive for the killing. Such motives may include the desire to exercise power over females or prevent or punish them for socially unacceptable female behavior, assumptions of entitlement and ownership over women and girls, pleasure, or sadistic desires towards females. Most femicides are committed by the victims' husbands or male relatives in the privacy of the home. Femicides may however also occur in the public sphere and include different modi operandi and relationships between victims and perpetrators.
In the context of the Middle East, including Iran, a common form of femicide are so-called "honor killings," which are defined as the killing of women and girls for the sake of preserving the family's honor. The perpetrators are typically male family members who – sometimes with the support of the matriarchs – kill another female family member for acts that allegedly go against societal traditions, wrongly interpreted religious demands, or the family's reputation. Such acts may include perceived sexual or behavioral transgressions or cases of incest and rape.
2022 REPORT AND ANALYSIS OF FEMICIDES IN IRAN
Lives Not Just Numbers
Many acts of femicide happen in silence, behind closed doors. Victims are sometimes left on desolate routes or quietly buried, some without headstones that mark their names. For these reasons, obtaining accurate data on femicide is a challenging task. StopFemicideIran assembles statistics and information about cases of femicide in Iran. We utilize multiple sources including local and national news, social media and grassroots reports.
 Although acts of femicid occur in all parts of the country, based on available data, they are most prominent in 5 provinces
Although given the current laws it is not easy to hold the perpetrators accountable for these murders, from a sociological perspective, it is important to understand the profile of perpetrators who commit these murders. According to the available data, most murders of women are committed by spouses, brothers, and fathers, but they are all committed by sons, cousins, inlaws, and others.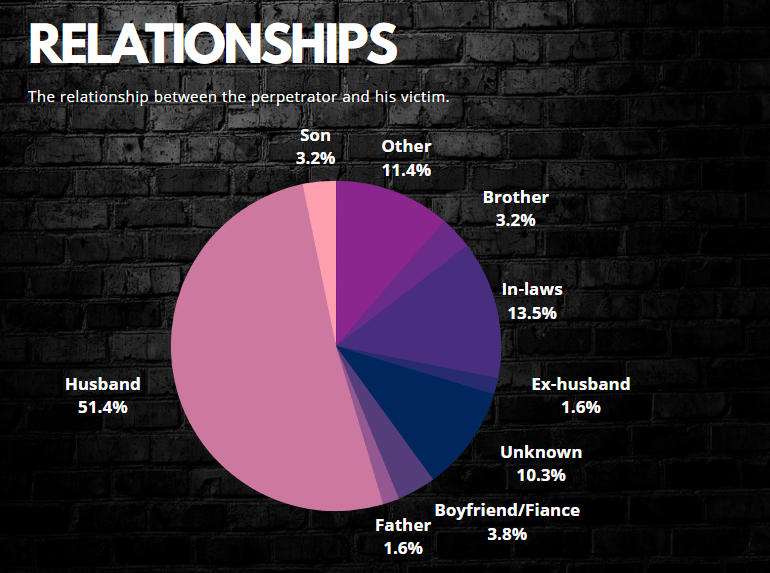 The list of femicides in Iran has been compiled with the utmost care by StopFemicideIran.org, if you know of cases that are not yet included in our overview please report them to us so we can make our overview as complete as possible.